Hi guys! It's good to have you back, as Lady Sonia is up to some dirty deeds again and she gets her hands on a nice fat cock for the day. The British housewife needed some help around the house, the handyman did a good job, so she just had to find a way to show him just how much she appreciates it, and since she's the always hungry for cock slut we know and love, taking good care of the dude's big Johnson is the way to go. Our mature gal is not the one to beat around the bush when it comes to these kind of things, so her flirting moves involve her pressing her round hooters against his strong body, and gently reaching for his dong with a cheeky and provocative look on her face.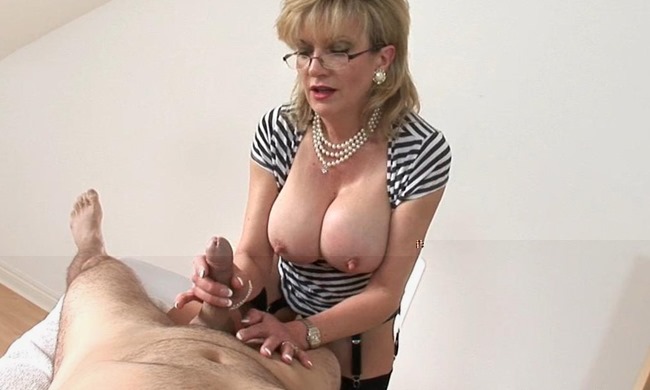 This guy didn't stand a chance in front of our foxy seductress and she's got him naked, lying on his back in no time. The cougar whips out her brazen titties and rubs his meaty shaft against her rosy nipples, turning them hard like little candies just ready to melt in your mouth. LadySonia playfully rolls her nasty tongue around his cockhead, before taking it all in her warm watery mouth, sucking and slurping with a deep passion, getting that hot rod all hard and throbbing. She is very skilled in offering amazing handjobs, just like hot Kay Parker,  her talented hands take it from here and she's encircling her fingers around it, going up and down real hard, until she gets his milky jizz splashed all over her creamy juggs.
Check out sexy Sonia jerking off a fat cock!