Our feisty mature bombshell, Lady Sonia was having such a boring day at the office so she decided to do something fun and spontaneous and oh so sexy, a decadent posing session for her loving fans. This foxy and lovely slutty lady sure knows how to get you attention, her body is all made by tantalizing curves but it's her audacious décolletage that has every man going crazy for. Her flawless contours are covered in super tight and sheer grey wrap dress, and her pins are wearing some sassy spike heeled sandals. Honestly we can't even begin to imagine how any of the work gets done with such a mouth-watering sight around.
This ripe beauty is all about the sensuous pleasures life has to offer, hint to the freshly opened bottle of champagne near her desk, and she loves to share all that with you, stirring up your naughty fantasies and filling you with lust and desire. The spicy blonde LadySonia is sitting on her leather chair, with her fine legs crossed, giving you a full view of her giant boobs barely contained by her skimpy sheer dress. With careless but seductive moves she takes her delicate fingers and tries to cup all that juicy hotness in her small hands. She's whipping those lush puppies out, squeezing them together like in kiss and goes on toying with her sweet nipples, which were already hard and peeking through her outfit even before being set free. Hope you all have some great kinky fun! If you can't wait until the next week's post, visit the old spunkers site and see other hot ladies exposing their great bodies!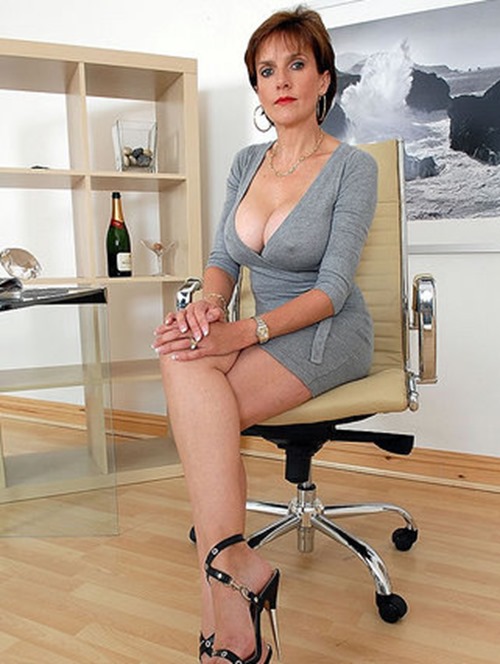 See sexy Sonia teasing with her deep cleavage!